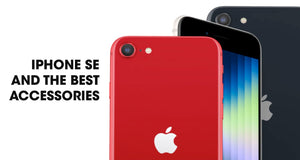 Discover some of the most noteworthy features of the new iPhone SE and the best accessories to complement it.
Apple began taking pre-orders for the third-generation iPhone SE earlier this week, with the full launch set for March 18th. In its third version, the SE has been a fan favorite for a long time, and it now includes some of the best features found on the more recent iPhone 13 series devices.

You can depend on MyBat Pro to keep you informed of the latest features and upgrades Apple has added to this new model beyond the previous version launched just two years ago.

From the A15 Bionic Chip, 5G addition, and upgraded battery life, some of the most notable features make the new iPhone SE a true standout and some of the best accessories to match the new model.
It's Faster, Stronger, And It Has The Look You Love
5G Network Capabilities

With 3G towers no longer being supported at the end of the year, offering the latest 5G is an excellent way for those looking for a cheap entry-level iPhone to enjoy the next level of connectivity.

Rather than paying $700 for one of the newer models, you can get the SE for $426, and while you won't be getting some of the top-of-the-line features from an iPhone 13, the level of speed and accessibility is quite matched with the new SE.
The new iPhone SE is made for the next generation, including faster upload and download speeds, lower latency, and HD FaceTime calls even when using cellular data and not Wi-Fi.
A15 Bionic Chip

In place of the A13 Bionic Chip used in the last version of the SE, Apple has included the latest chip found in the iPhone 13 and 13 Pro, making this the company's cheapest and yet fastest phone yet, as it features IOS 15 out of the box as well.

With iOS 15, users will also be able to access on-device dictation and Live Text content in their Camera app, thanks to the A15 chip's 16-core Neural Engine, which can process 15.8 trillion operations per second.

Apple boasts that the new SE has 1.8x faster processing power and 2.2x faster graphics processing power than the iPhone 8. Even though the phone won't use all of its capacity for every aspect, its power will make it easier for Apple to support new versions of iOS for many years to come.

It keeps the same 12-megapixel rear camera and 7-megapixel front camera as the last version of the SE. The A15 chip will have the same computational imaging capabilities as other new iPhones - perhaps the biggest advantage since it will introduce advanced features to the camera such as Smart HDR 4, Photographic Styles, and Deep Fusion.

The A15 Bionic makes every action fluid, whether for photography, gaming or augmented reality.

Improved Display Strength

Despite the many changes within the phone's inner workings, the display retains many of the features of the previous SE, which was based on the iPhone 8 design.

There is still no Face ID on the iPhone SE, with this being the most current device that still features a touch home button with Touch ID instead. In keeping with the latest iPhone SE from 2020 and the iPhone 8, the new SE includes a 4.7-inch LCD Retina HD display. 

Differentiation-wise, the phone's bezel surrounds it, including the backside, which is now covered in what Apple describes as "the toughest glass on a smartphone."
Your New iPhone SE Needs These Accessories:
For those who have already pre-ordered the third-generation iPhone SE, you might want to consider you choose the right accessories that will protect it, compliment its style, and enhance its overall performance. We at MyBat Pro know how important your new Apple iPhone SE  is safely and adequately protected, charged, and mounted.

A Diamond-Like, Fall-Proof Protector For Your Screen
You can choose from our selection of High-Definition, Full Coverage, and Privacy tempered glass screen protectors for edge-to-edge shielding. Each screen protector has a complete multi-layer defense and is 5X stronger than standard glass. Thanks to oleophobic coating, your screen will be free of smudges, fingerprints, or dirt. The screen protectors offer an optimal fit without restricting touch sensitivity.
A Protective Case With Matching Style 
There's a MyBat Pro case to match any lifestyle or personality. Whether you're looking for sleek, clear Lux Series Cases, stylish Fusion Series Cases, rugged, feature-packed 3-in-1 Storm Tank Series Combo Cases, or even wallet cases like the MyJacket Element Series Wallet Case, your phone will be protected in style from accidental drops, bumps, and falls.
A Portable Charger Without Wires 
Power on the go is easy with the MyBat Pro 10,000mAh Wireless Power Bank with Kickstand. It features an integrated Lightning connector input port for easy charging and recharging with a single cable. This power bank features a wireless charging surface with 15W of power, 3X more powerful than standard wired or wireless chargers. It also includes a stabilizing holder to keep your phone in place while it charges and two 18W USB Quick Charge ports. Use the kickstand to read, watch videos, and play games while you charge!
The Ultimate Fast Charging Essentials 
Upgrade your everyday essentials with the perfect fast-charging starter pack! The MyBat Pro 2-in-1 Fast Charging USB-C Power Delivery Wall Charger With 4ft Lightning Cable provides 4X more power and speed than standard chargers and cables. The travel-ready wall charger is enhanced with 20W of fast-charging USB-C Power Delivery technology and can power your new iPhone SE up to 50% in only 30 minutes! The included MFi certified Lighting to USB-C charging cable is crafted from durable and flexible braided nylon for an incredible bend lifespan that will outlast the average cable.
A Convenient Magnetic Car Mount 
With the MyBat Pro 3-in-1 Magnetic Phone Car Mount, you'll merge into a new lane of hands-free convenience. Whether you keep it in your vent or on your dashboard, you can have your phone at a level that is easy to see in your car. The mount clamps to most vents or grilles regardless of shape or thickness, and the strong 3M adhesive and bendable base allow you to attach it to your dashboard or other flat surfaces for a quick and easy installation! Magnetically lock your phone to the mount by sticking one of the included metal plates to your phone or case. The magnetic force keeps your phone secure even on bumpy and rocky roads!
Conclusion: Those who long for the classic iPhone style can now get an upgrade while holding onto what they know with the iPhone 8, now with the "retro" aesthetic. In its third generation, Apple provides its fastest chipset and processor at an affordable value to ensure that anyone on the fence to get an iPhone before would be able to, and with 5G to boot!

With MyBat Pro, you have access to a wide range of accessories that will enhance the functionality of your new iPhone even further with faster charging, mounting, and even the best protection available.
View our complete selection of iPhone SE accessories HERE!