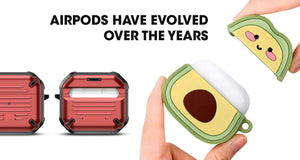 As AirPods have evolved over the years, it's important to choose an accessory that works with your specific model
Apple's AirPods have redefined portable, wireless sound since their launch in 2016. Their easy pairing, long-lasting playability, battery, and even superior sound quality over wired and even wireless headphones have helped them become the benchmark for Bluetooth earbuds over the years. They can also be paired with anything that has Bluetooth, including smart TVs and other smartphones, but Apple products work best.
As the AirPods have improved tremendously since their debut in 2016, they have been able to offer several new features such as noise cancellation, spatial audio, and a greatly improved design to fit almost any user.
As there are so many different models of AirPods now on the market, it can be difficult to determine how to take advantage of these features and find an accessory that fits each user's style and needs. MyBat Pro is here to help you explore the features, history, and best accessories for each generation of AirPods.
AirPods Gen 1
Apple released AirPods Generation 1 on December 13, 2016, as a wireless alternative to its longtime EarPods.
Using the W1 chipset, it was one of the first wireless earbuds to provide seamless auto-pair and long-range Bluetooth 4.2 connectivity.  As soon as you've set up AirPods, you can use them on any Apple device, like iPhone, Apple Watch, or iPad, by tapping on the AirPods in Control Center.

AirPods have also received praise for offering a more detailed bass and cleaner sound experience as compared to EarPods, even though they share identical sound specifications.
The first generation of the AirPods did not feature the hands-free "Hey Siri" voice function, as one had to double-tap on an earbud to access the voice assistant.
Compared with other earbuds on the market, the Generation 1 AirPods had remarkable battery life. Gen 1 AirPods provided up to 5 hours of nonstop music playback and 2 hours of talking for 24-hour battery life with the charging case.

The original AirPods didn't have wireless charging capabilities or many of the additional features later models shared with their successors. Still, they set the bar for what a wireless earbud could be.
Because the Generation 1 AirPods aren't IPX waterproof, they are more susceptible to damaging elements and therefore require an accessory that can protect them from accidental damage in style. The MyBat Pro Armor Series cases decorate your AirPods in protection with personality. This case features a sleek and polished polycarbonate exterior to match any phone, outfit, or bag and a rugged TPU inner shell to protect from drops and impacts. The case is water-resistant, dust-proof, dirt-resistant, and scratch-resistant, so don't worry about scuffs from daily use. Additionally, the Armor Series includes a metal carabiner that can be easily attached to your keys, bag, or belt.
AirPods Gen 2
With the generation 2 AirPods, which launched on March 20, 2019, there are a number of updates, including an upgraded processor, battery life, Siri functionality, and a wireless charging case option.
In place of the W1 chipset that came with the Generation 1 Airpods, the Generation 2 was the first model to include the proprietary H1 chipset that has been found in each subsequent generation. As far as sound quality and connectivity are concerned, the new AirPods gave us a better latency connection, reducing lag times when streaming or playing games and upgrading to Bluetooth 5.0.
The Generation 2 also brought the "Hey Siri" hands-free feature, making it possible to use voice commands rather than touch either earbud to activate the voice assistant.
Wireless charging was also added to the case of the Generation 2 AirPods.  The base model came with a version that could not charge wirelessly, but for an extra $50 one could upgrade to that model or even pick up a separate wireless charging case. 
On the battery front, the Generation 2 is pretty similar to its predecessor, offering 24 hours of continuous talk time or playtime. However, it has an extra hour of talk time of up to 3 hours in comparison.
Though the Generation 2 earbuds didn't undergo a significant redesign, the right accessories can elevate them to another level. MyBat Pro's Leather Armor Series cases will complement your AirPods perfectly. Made of premium vegan leather with gold embellishments, they'll enhance your AirPods' look as they age. A rugged inner shell made of TPU provides extensive shock, drop, and impact resistance. Unlike regular cases, it can withstand daily wear and is resistant to water, dust, dirt, and scratches. A stylish keychain is included with the case and can easily be attached to your keys, bag, or belt. With its cut-out for the charging port and wireless charging capabilities, there is no need to remove the case to charge!
AirPods Pro

Apple released the AirPods Pro on October 28, 2019, as a much more advanced alternative to the AirPods. While the design was relatively the same, they made it up with features.
They may look similar to past AirPods designs, but they contain some distinct differences from their older counterparts. The stem has been shortened and is equipped with a new Force sensor that supports gestures. You can pause your music, play it, or skip forward and backward through your playlists with the stem.
Other significant changes to the AirPods Pro design include the addition of new silicone tips that fit inside the ears. Three different size silicone tips are included with AirPods Pro, and the tips snap on and off quickly. The company even designed a fit test to ensure the correct size tip is used for your ear.
The silicone tips enable AirPods Pro's most noteworthy feature, Active Noise Cancellation. Active Noise Cancellation works by creating soundwave barriers to block out background noise. Apple added Transparency mode that reduces Active Noise Cancellation so you can hear the environment around you. When using AirPods Pro, you can switch between Active Noise Cancellation and Transparency mode by pressing or holding the stem or using the Control Center on the iPhone.
As AirPods Pro uses the same H1 chip as AirPods 2, all quick setup and device swap features are available and the hands-free "Hey Siri" command.
AirPods Pro has an Adaptive EQ feature, similar to AirPods Gen 3. It automatically adjusts low and mid frequency ranges to fit the shape of each individual's ear to distinguish between instruments, making the sound both crisp and clear.

AirPods Pro and case are IPX4 waterproof so that they will survive some light splashing from rain and sweat, but you should ensure they are kept dry.

While this wireless charging case looks like the standard AirPods case, it is wider due to the silicone tips it needs to accommodate.

Since the AirPods Pro are such a standout model, they deserve an accessory that will enhance their design. Add a bit of sparkle to your AirPods Pro with the Crystal Diamond Series cases from MyBat Pro. The luxurious diamond-encrusted exterior and crystal-clear underlay turn your AirPods Pro into a work of art that will turn heads wherever you go! The Crystal Diamond Series provides excellent shock, drop, scratch, and impact protection thanks to the rugged polycarbonate inner shell. Unlike most cases requiring you to take off the case to charge, this one has a convenient cut-out for the charging port and is wireless charging compatible!
AirPods Gen 3
Apple unveiled the third-generation AirPods in October 2021, which featured the first significant design change since the AirPods were first introduced in 2016.
This third generation of AirPods features shorter stems and a more contoured design to fit most ears than the AirPods Pro more closely. With Gen 3 AirPods, Apple claims they have been designed to rest at "just the right angle" in your ear.
As in the Gen 2 and Pro, Apple uses the H1 chip to provide an Adaptive EQ based on computational audio to provide enhanced sound. Adaptive EQ tunes low and mid frequencies based on a user's ear size and shape using a microphone that monitors for sound.
A custom driver and high dynamic range amplifier work together to bring powerful bass and clear high frequencies, and the microphones are protected with an acoustic mesh to cut down on wind sounds.
When using the AirPods for FaceTime calls, the voice quality is in full HD. As well as blocking out ambient noise, beamforming microphones focus on the user's voice during calls or Siri commands and thus provide the best audio quality.
For physical control of music playback and Siri activation, AirPods feature a force sensor in the stem. With an IPX4 rating, the AirPods are resistant to sweat and water, and the charging case is also water-resistant.
Like Apple's more expensive AirPods Pro and AirPods Max headphones, the Gen 3 AirPods also support spatial audio with dynamic head tracking. With a new skin-detect sensor, AirPods can determine if they're in your ears or in your pocket, and playback will pause if they're removed.
A force sensor is built into the AirPods stem for controlling music playback and activating Siri. The AirPods are resistant to sweat and water with an IPX4 rating, and the AirPods charging case is water-resistant.
Along with Adaptive EQ, the AirPods support spatial audio with dynamic head tracking, just like Apple's more expensive AirPods Pro and AirPods Max headphones. A new skin-detect sensor can tell if the AirPods are in the ear or in a pocket, and playback is paused when they're removed.
Three-generation AirPods offer up to six hours of listening time and four hours of talk time on a single charge. Fast charging gives you an hour of battery life with just five minutes of charging.
The AirPods case has also been redesigned, becoming wider and smaller and even featuring compatibility with MagSafe accessories for a strong magnetic hold as you charge.
As for accessories, the best option is to get a protective case or cover that is stylish and provides protection for your AirPods. MyBat Pro Cartoon Silicone Cases provide fun protection for wireless earbuds with the look of classic cartoon mice, a gaming console, or an avocado. In addition to acting as a second skin, it protects your AirPods from drops, scratches, and falls, and with the stylish keyring, you can attach it to your keys, bag, or belt so you won't lose it!
Conclusion:
Finding the right accessories that perfectly fit your style and personality will be easier now that you know about the differences between the AirPods generations.
Besides those mentioned above, MyBat Pro offers a variety of AirPods accessories and cases to exemplify the look and protect your earbuds.

Click HERE to view our entire collection and find the perfect AirPods accessory today!