MyBat Pro's Blog
Check here for news and information on the word of tech accessories & trends.
February 11, 2022
Posted by Steven Lu on
It can be hard to select the perfect Valentine's gift. MyBat Pro has compiled a list of the best of our extensive collection of wireless accessories for you to express your inner cupid. The latest electronic gadgets and tech accessories can be a great alternative to cards, flowers, and candy.
January 26, 2022
Posted by Steven Lu on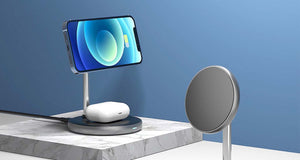 In the ever-changing world and workplace, MyBat Pro is devoted to creating products that ensure you are productive wherever you are! Our Bluetooth headsets, active noise cancellation true wireless earbuds, wireless chargers, stands, and mounts allow you to work efficiently while offering advanced office perks!