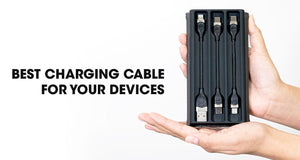 With the right charging cable, charging will be safer and faster.

Wireless devices require much more than just a fast-charging adapter these days, as it's the cable that takes the most strain when it comes to charging. There is much more to charging cables than connecting your phone to the charger. When the wrong cable is used, it could ruin your performance or damage the device. Even though many cables look similar, they may not work with your device since there are different charging options, standards, and speeds.
You can rely on MyBat Pro to help you find the right charging cable to keep your devices fully charged and charging at the fastest speed! Here's the definitive guide to choosing the best charging cable for your device.

Standard Charging Cables vs. Fast Charging Cables

The type of cable that carries the most power depends on its gauge. A standard charging cable has a gauge of 28, but fast charging cables have a gauge of 24. While one would think that the 24 gauge is smaller, it is 60% thicker than the 28 gauge cables and can take on more current.

A standard charging cable delivers roughly 2.5 watts of power to your device's battery due to the limited amount of electricity it can transfer to a device at just .5A of current. Due to this, using a standard charging cable and a fast-charging power adapter will not result in fast charging.

Fast charging cables can deliver up to 120 watts of power and support Quick Charge and Power Deliver protocols. This is because fast charging cables can provide more current to charge your battery more efficiently than standard cables. Additionally, fast charging cables are easier to identify as they can carry at least 2A of current.  

Charging Cable Types

Micro USB:
Micro USB is a smaller version of the standard USB plug that works as an A and B type connector.

Micro USB ports are commonly found on devices, including:
Digital cameras
Navigation devices
Video game controllers
MP3 Players
Click HERE to browse our collection of Micro USB cables. 
USB-A:
USB-A is the most recognizable USB connector type, also known as "Type A." It is quite likely that you are already familiar with these flat, rectangular connectors, as they have been around since the 1990s and are the standard for pluggable devices.

USB-A ports are commonly found on devices, including:
Computers

Phone Chargers

Smart TVs

Keyboards & Mice
Click HERE to browse our collection of USB-A cables.
USB Type-C:
Due to their oval shape, USB-C, or "Type-C" connectors are instantly recognizable. With USB-C connectors, you can transfer video, audio, and even power. With Power Delivery, USB-C cables can deliver up to 100W, enabling them to charge laptops and other high-power devices, which was impossible with the older USB cables.

USB-C ports are commonly found on devices, including:

Gaming consoles

Smartphones (such as the Samsung Galaxy)

Printers & Scanners

Laptops (such as the Macbook Pro and Windows Surface)
Click HERE to browse our collection of USB-C cables.
Lightning:
Lightning cables are Apple's proprietary connector to connect an iPhone, iPad, or iPod to a USB port or power adapter for syncing and charging. Lightning cables sold outside of Apple require an MFI certification, which means that the cable was tested to comply with Apple's specifications.

Lightning ports are commonly found on devices, including:
iPhone 5 and above
iPad 4 and newer
iPod Touch 5th Generation and up
AirPods charging cases
Click HERE to browse our collection of MFI Certified Lightning cables. 
Materials Matter

Charging cables come in a variety of materials. Each cable has its own composition of electrical contacts, internal wiring, and outer insulation. Connectors are even reinforced with metal or zinc to increase durability. Below are some common materials found in charging cables.

PVC:
Despite not being the most durable material, PVC (polyvinyl chloride) is used frequently due to its weatherproof, abrasion-resistant, and flammability properties.

TPE:
TPE (thermoplastic elastomer) is a flexible and tough plastic. TPE is the primary material used in the original charging cables that come with phones today.
Braided Nylon:
Cables made of nylon prevent the copper core inside the mobile phone cable from being damaged by external tension. These cables cannot easily break due to their braided structure.

Click HERE to browse our collection of braided nylon cables.

Zinc Alloy:
Connectors made from zinc alloy will prevent your cable's tip from breaking or weakening over time. A weak connector can cause damage to your device when charging or cause the device to fail to sync your data.
Click HERE to browse our collection of zinc alloy cables.


Finding The Perfect Cable Length

Depending on the length of the charging cable, the device's transmission speed and charging speed are affected. Since shorter cables have a smaller resistance, more data can be transferred, and more devices are charged. Yet, extremely short cables are not recommended, as they are quite restrictive. A good barometer for cable length is 3 or 6 feet, allowing you to avoid being tethered to your outlets.
Conclusion:
USB power adapters impact how quickly your device's battery will be fully charged. By knowing the differences between cable types and recognizing fast charging cables, you can charge your devices more efficiently and safely. The wrong cables can significantly slow your device down or even be dangerous.

MyBat Pro's incredibly durable charging cables will keep you charged and connected whether your device has a Micro USB, USB-A, USB-C, or Lightning port. Get the most efficient charging and data transfer speeds simultaneously. With reinforced stress points, a thick gauge, braided nylon coating, and extended lengths, MyBat Pro cables outlast standard cables.

Find your perfect cable RIGHT HERE!