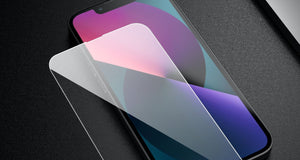 Why Your Phone Still Needs A Screen Protector
Due to claims that the latest screens are enhanced with the most advanced fall and scratch protections available, many are led to believe that their expensive phone screen will be safe without any add-ons or precautions. Though the latest phone screens are getting stronger, even boasting up to 4X more durability than previous models, these new screens are still susceptible to damage, especially the eventual accidental fall.
Since these new screens are stronger and made of more complex materials, the prices to fix a cracked or damaged screen have also seen a rise lately, as the average cost to repair an iPhone 13 or a Galaxy S21 screen is around $275.
Yet, a cheaper and safer alternative exists, one that will not only shield your precious screen from damages but also ward off microbial threats. While not having a name like Gorilla Glass or Ceramic Shield, Tempered Glass is the toughest and most durable screen protector on the market.
MyBat Pro is a leader in professional screen protection, engineering, and testing with the highest standards to ensure that your screen is protected with confidence. Whether you need a
camera lens protector
,
full coverage
, curved,
standard tempered glass protector
 or 
privacy tempered glass
, we have various options that fit all phone types and sizes!
---
What Exactly Is Tempered Glass?


With a hardness rating that is one step away from diamond (9H) on the Moh's hardness scale, tempered glass can withstand up to 24,000 psi of pressure, making it more than 5X stronger than glass! Tempered glass is made through an extreme cooling process called quenching, in which glass is heated to temperatures of more than 1112°F and then blasted with highly pressurized air from varying angles. This results in the outer areas of the glass cooling before the center, causing tension and ultimately making tempered glass as tough as it is.
How Is Tempered Glass Different From Plastic Film Protectors?
While plastic film protectors seem tempting with lower costs and seemingly the same protections, they are not as thick and do not cover the full area of a screen as tempered glass, and thus even slight signs of damage such as scratches or even small cracks show quickly. Not only are they not as thick, but plastic film protectors are meant to be replaceable and lose their clarity over time, while tempered glass provides as much clarity as your natural phone screen. Plastic film protectors are not as smooth as tempered glass and are less touch-sensitive, making it harder to access your screen over time.

How Does Tempered Glass Protect My Devices?

With multiple layers, tempered glass provides the perfect preventative barrier against drops and shattering by letting certain areas of the glass take on the impact rather than your screen. MyBat Pro tempered glass screen protectors are also enhanced with an oleophobic coating that prevents fingerprints, smudges, grease, and oil from showing on your screen while also being able to ward off germs and bacteria that could get you sick.

---
Can I Use A Tempered Glass Screen Protector On My Tablet?

Yes, MyBat Pro offers tempered glass sizes that ensure your iPad, Galaxy Tab, or other tablet is covered!
Click here to find the perfect protection for your tablet!

Can I Use A Tempered Glass Screen Protector on my Apple Watch?

Yes, MyBat Pro offers tempered glass sizes that fit all sizes and series of Apple Watches!
Click here to find the perfect protection for your Apple Watch!

How Do I Apply A Tempered Glass Screen Protector?

No need to worry about seeing air bubbles! Every MyBat Pro tempered glass screen protector is incredibly easy to apply using the powerful adhesive backing. It is recommended to clean your screen before applying using an alcohol wipe or microfiber cloth for optimal protection! For more installation tips, watch the video on the product page for more information.

How Do I Clean My Tempered Glass Screen Protector?

There is no need to take off the screen protector whenever it gets dirty. If you see smudges or grease, simply use a microfiber cloth or a wet wipe.
Can I Reuse My Tempered Glass Screen Protector?

Unfortunately, tempered glass screen protectors are not reusable as the adhesive backing will lose its ability to stick once taken off of your device. This is because tempered glass protectors are designed to offer full protection, only need to be taken off once their job is done!
What If My Tempered Glass Screen Protector Accidentally Gets Damaged?

All MyBat Pro tempered glass screen protectors are backed by a lifetime warranty, so even in the event of accidental damage to the screen protector, MyBat Pro will send a free replacement for the lifespan of the device! Only pay the cost of shipping and handling.

To learn more, click here.
How Do You Replace a Tempered Glass Screen Protector?

If the glass starts to crack or has apparent scratches or built-up residue, replacing your screen protector is incredibly easy! Just peel off the damaged screen protector, and apply the new one! Don't worry; removing a used protector won't harm or leave any residue on your screen!

How Much Do Tempered Glass Screen Protectors Cost?

While screen repairs on newer models can cost you hundreds of dollars, MyBat Pro's tempered glass screen protectors come in incredibly affordable prices ranging from $15-22 for phones, $18-25 for Apple Watches, and $25 for tablets!
---
Conclusion:
Even though your new phone's screen is incredibly tough, it still is susceptible to damage! Tempered glass screen protectors provide maximum coverage and safety over other screen protectors and are enhanced with 5X more durability than regular glass!
Get your devices fully covered today! Click
here
to view all tempered glass options.