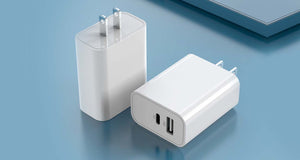 7 Ways To Improve Charging Experience & Battery Instantly

It seems that after a certain point of usage, our phones stop charging as fast as they used to. Even after waiting by the charger for countless hours, it feels like the phone is perpetually stuck at 50%.

Regardless of our best efforts to keep our cables free from tangles, remove our phones from the charger when fully charged, or keep our phones in good condition, nothing seems to help.

Here at MyBat Pro, we want to keep things running smoothly and make sure your phone stays charged, so we came up with a list of tried and true solutions to get your battery back to 100 in the shortest time possible.

How Your Phone's Battery Works

Every newer phone model comes standard with a built-in rechargeable battery that ranges between 2,500 mAh up to around 4,000 mAh (milliampere-hour).  
Battery capacity is measured in mAh, where a higher number corresponds to a more powerful battery. Thus, a battery with a larger mAh can power devices for more extended periods. 
However, it is true that your battery will not maintain 100% charge over time, whether due to updated operating systems or usage patterns. When users stream music, play games, or watch videos on their phones often, their maximum battery capacity will decrease since these activities drain the battery more quickly.  Even lithium-ion batteries in most newer phones have been found to lose about 20% of their capacity after 1,000 recharges.
More often than not, the key to maintaining long battery life and faster charging times lies in how we charge.
How To Charge Faster
1. Update To a More Powerful Charger

Most phone companies don't give you fast chargers out of the box. Despite supporting fast charging, Apple used to include a 5W power brick with every iPhone, and Samsung has done this recently by including a 25W charger for the Galaxy Note 10+ when it can support 45W fast charging.

The fastest way to recharge your phone's large battery is with a charger equipped with the latest fast charging protocols and technologies, such as USB-C Power Delivery and GaN (gallium nitride). Power Delivery can charge your devices faster, giving your battery a much-needed power boost by using a higher output than standard chargers. GaN (gallium nitride) chargers allow better heat transfer because they use a cutting-edge semiconductor, allowing higher wattage output while occupying half as much space!

Despite being half the size of standard chargers, the MyBat Pro Mini USB-C Power Delivery GaN Charger is equipped with super-charged gallium nitride semiconductors that provide 100X more power than standard silicon chargers. This small but mighty charger is enhanced with 33W of fast-chrging USB-C Power Delivery technology to take the latest iPhone or Android from 0 to 50% in just 30 minutes! Thanks to its low-heat operation, the charger remains cool to the touch while charging your devices at the highest output! This compact charger delivers all the power and speed of a full-sized charger, but in a convenient, travel-friendly design that takes up little room, you can power up wherever you are! Full power at half the size!

For those who need to charge their phone and another device simultaneously quickly, the MyBat Pro 30W Dual-Port Wall Charger is an excellent choice for revolutionary power! Enjoy 6X more power than standard chargers with the latest fast charging technologies, Power Delivery, and Quick Charge in two amazing high-speed outputs, 30W USB-C PD and 18W USB-A QC 3.0. Whether your devices are fast charging compatible or not, they will still charge at the fastest possible outputs! The charger is designed to fit discreetly into any outlet, with a compact, lightweight, and non-obtrusive design so that it doesn't obstruct or clutter your plug. Enjoy the next level in high-speed charging!

2. Get A More Durable, Fast Charge Compatible Cable 
A bad cable may be to blame for your iPhone or Android smartphone charging slowly. Charging cables get dragged about and beaten up quite a bit, so most people do not consider replacing them until they completely stop charging. If your cable has been crushed, crushed, tangled, stepped on too often, or if the connector is bent, it's probably time for a replacement. Although USB-A chargers and cables have been the standard, USB-C has become the new standard in recent years, allowing fast charging and more durable cables.
MyBat Pro offers a wide selection of cables with unrivaled bend lifespans and incredible strength and durability.
Reinforce your charge with the MyBat Pro MFI USB-C to Lightning Sync Cable. Even the roughest wear and tear does not stop them from providing Apple-certified MFI specifications with Power Delivery to ensure the fastest charging and data transfer rates. Due to its reinforced zinc alloy connectors and flexible braided nylon, the MFI USB-C to Lightning Sync Cable offers an extraordinarily long bend lifespan. Paired with a Power Delivery charger, the cable can support up to 60W of high-speed charging to take your iPhone to 50% in only 30 minutes! At the perfect length of 4ft/1.2m, you won't have to struggle to reach your devices from any outlet!

Power through anything with the MyBat Pro USB-C to USB-C Zinc Alloy Quick Charging Braided Cable. With reinforced zinc alloy connectors and flexible braided nylon, the USB-C to USB-C Zinc Alloy Quick Charging Cable boasts an incredible bend life that outlasts the average cable to deliver the fastest charging and data transfer rates. By pairing the cable with a Power Delivery charger, the cable can provide 60W high-speed charging to take the latest Android phone from 0% to 50% in only 30 minutes. Get maximum freedom as you charge with the perfect 6ft/1.8m length that can reach from a wall outlet to a couch or bed and easily run from a center console to a passenger.

The MyBat Pro Cable Kit is a must-have for all travelers! You'll have all of the cables you need to charge and sync your iPhone, iPad, and AirPods Pro while on the go. With three 5" cables, you can charge from any adapter and use it with any Apple device! The set includes a USB-A cable, a USB-C cable, and a USB-C to USB-C cable. All cables are manufactured with braided nylon material, giving them an incredible bend lifespan that outlasts most cables. The Cable Kit also includes a leather carrying case with secure magnetic closure that keeps the cables organized and ready for use wherever you go!
3. Put Your Phone In Power Saving Mode and Close Background Apps
Phones that take a long time to charge can also have problems maintaining a charge. Rogue apps, or background apps, might be to blame. Most iPhones and Android phones come pre-equipped with battery-saving modes. When enabled, it reduces the number of background applications consuming resources, which increases charging speeds.
4. Don't Use Your Phone While Charging
In most cases, turning off your phone completely will result in a faster charge. When your phone is on, a portion of the energy supplied by the charger is diverted to running your phone and whatever background tasks it may be running. If you do not wish to turn off your phone, you can set it down peacefully and let it charge. This will allow you to get a stronger charge.
How To Preserve Your Battery 
5. Plug Into An Outlet, Not Your Computer 
Typically, a USB port on your computer delivers 2.5 watts, while modern power adapters deliver no less than 12 watts. Using a computer's USB port will also significantly increase the temperature of your phone's battery compared to using a wall outlet or car charger. This results in the battery degrading rapidly and the charging capacity of your phone decreasing. Therefore, charging your phone with a wall adapter can power your device up to 5X faster than your computer, making it the fastest charging method.

6. Clean Your Charging Port 
The majority of phone users do not think about the possibility of their charging ports getting dirty or how to clean them. Yet lint or dust from your bag or pocket can clog your port, making it hard to connect with your cables and preventing it from charging properly.
Luckily, there's an easy fix.
You can gently remove lint or debris from the port's opening with a toothpick or bobby pin. If the clog is severe, compressed air might be needed to clear out the buildup.
7. Unplug Your Phone When Fully Charged

Although many phones now stop charging once they reach full charge, sleeping with your battery connected overnight still puts it at risk of overheating.

Due to the fact that your battery may not be able to reach a 100% charge due to capacity loss, your phone may be overcharged as it tries to charge itself completely.

It's best to unplug your phone once it's at least 80% charged to get the most out of your battery.
Conclusion
Eventually, your battery will degrade as your phone ages and is charged more frequently. By following these best practices, your battery will remain in peak performance for a longer period.

MyBat Pro offers a wide selection of chargers, wireless chargers, cables, and power banks to ensure that a low battery never stops your flow!

Click HERE to browse our complete collection of charging and power accessories to keep your battery in the green!